Arts and Performance
Nicola Lo Calzo: Bundles of Wood
August 26, 2019 – October 17, 2019 EDT
This event has already occurred. The information may no longer be valid.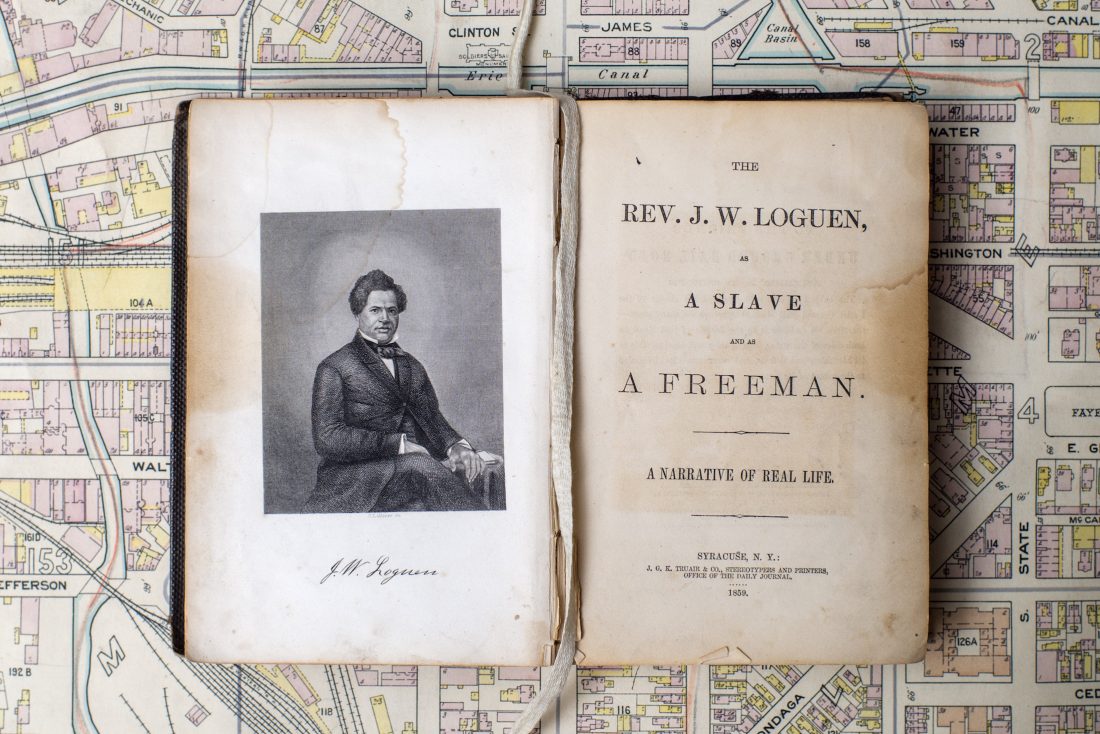 With great pleasure, Light Work presents Bundles of Wood, a solo exhibition by Italian photographer Nicola Lo Calzo. Since 2010, Lo Calzo has traversed Atlantic coastal areas to research buried memories of the African Diaspora. His latest project, Bundles of Wood, on view at Light Work, August 26 – October 17, documents the rich local history of the Underground Railroad in Central New York. Lo Calzo will visit campus for an artist's talk and conversation with playwright Kyle Bass at 6:00 PM on Friday, October 11, 2019. Lo Calzo and Bass will explore the intersection of Photography, Race, Memory, and the African Diaspora. The exhibition and reception are free and open to the public.
In September 2017, Nicola Lo Calzo traveled from Paris to Syracuse to participate in Light Work's Artist-in-Residence Program, to research and document Central New York's own history of the Underground Railroad.  Bundles of Wood is the resulting photo essay, tracing a clandestine network active up to the American Civil War. Along with his photographs, Lo Calzo is exhibiting antebellum artifacts on loan from the Onondaga Historical Association.  His title, Bundles of Wood, derives from the Underground Railroad's secret code language and means "incoming fugitives to be expected."
"Syracuse and Central New York have a proud abolitionist and Underground Railroad history," says OHA's executive director Gregg Tripoli. "Onondaga Historical Association is pleased that Nicola has chosen to highlight this remarkable past in the exhibit at Light Work. The 'Jerry Rescue' is a well known local event with national implications that spelled the beginning of the end of the Federal Fugitive Slave law. The 'faces' that were carved into the basement walls of the abolitionist Weslyan Church in Syracuse represent rare three-dimensional evidence of the Underground Railroad. And the early autobiography of Rev. Jermain Wesley Loguen speaks to his proud defiance of slavery and helps explain why he was considered the 'King of the Underground Railroad.' OHA is thrilled to be a part of this wonderful exhibit that helps commemorate a particularly controversial period in our local and national history."
The exhibition will run Monday, Aug. 26 through Thursday, Oct. 17 in the Robert B. Menschel Media Center. Gallery hours are Monday-Thursday 10 a.m.to 9 p.m., Friday 10 a.m.to 6 p.m., Saturday-Sunday 1 p.m. to 9 p.m. Light Work closes on all major holidays. 
OHA: Lunchtime Lecture
Thursday, Oct. 10, 12-12:30 p.m.
In conjunction with the exhibition Bundles of Wood, the Onondaga Historical Association is proud to host a lunchtime lecture with acclaimed photographer Nicola Lo Calzo. Lo Calzo will discuss his research, artistic practice and photographing the rich local history of the Underground Railroad (UGRR) during his residency at Light Work in 2017.
Gallery Reception
Friday, Oct. 11, 5-7 p.m.
Artist Conversation
Friday, Oct. 11, 6 p.m. — Discussion exploring the intersection of Photography, Race, Memory and the African Diaspora with award-winning playwright Kyle Bass and Bundles of Wood exhibiting artist Nicola Lo Calzo.
—
Nicola Lo Calzo: Bundles of Wood is funded in part by the Syracuse Symposium, an annual public events series, exploring the humanities through lectures, workshops, performances, exhibits, films, readings, and more. The year's programming engages the meaning and impact of "Silence" from diverse perspectives and genres across a range of locations, locally and globally.
This event was published on September 26, 2019.
---
Event Details
Category

Type

Region

Main Campus

Open to

Public

Cost

All programs are free and open to the public.

Organizers

Contact

Cjala Surratt
cjala@lightwork.org
3154431300

Accessibility

Contact Cjala Surratt to request accommodations
Parking

For parking information, visit parking.syr.edu.