Women of the University Community Annual Poinsettia Sale
November 5, 2019 at 8:00am – November 21, 2019 at 5:00pm EST
This event has already occurred. The information may no longer be valid.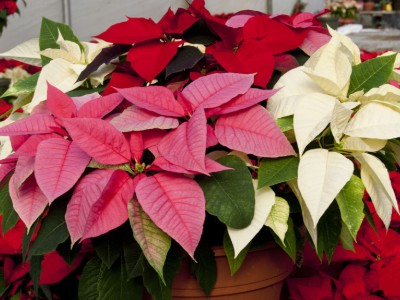 The Women of the University Community will hold its 21st Annual Poinsettia Sale this year to benefit three endowed scholarships: The Mildred Eggers, Ruth Tolley and Beverly Whaley Scholarship Funds.
Florist-grade poinsettia plants are available in three colors—red, pink or white—and in two sizes, 6-inch pots ($10.50) and 8-inch pots ($17.50).
Balsam fir, double-faced evergreen door wreaths, 20 inches in diameter, are available for $18.50 (bows are not included).
An order form can be found here. The deadline for orders is Nov. 21. Bulk Order Plants will be delivered on Tuesday, Dec. 3 from 10:30 a.m. to 2 p.m. (minimum of 15 plants for delivery). Individual Pickup will be available on Thursday, Dec. 5, from 10:30 a.m. to 2:30 p.m. at the Inn Complete on South Campus.
Orders may be paid for by cash, check, University requisition or PayPal (online orders only).
Cash or check orders can be mailed to Amy Shook-Perez, 4465 E. Genesee St. #263, DeWitt, NY 13214.
University requisition orders can be mailed to Kris Harnett, University College, 700 University Ave., Room 406D, Syracuse, NY 13244.
This event was published on November 5, 2019.
---