Humanities
STUDY ABROAD INFORMATION SESSION SUMMER 2020 HOA 300: MEDIEVAL SICILY
November 20, 2019 at 6:00pm – 6:30pm EST
This event has already occurred. The information may no longer be valid.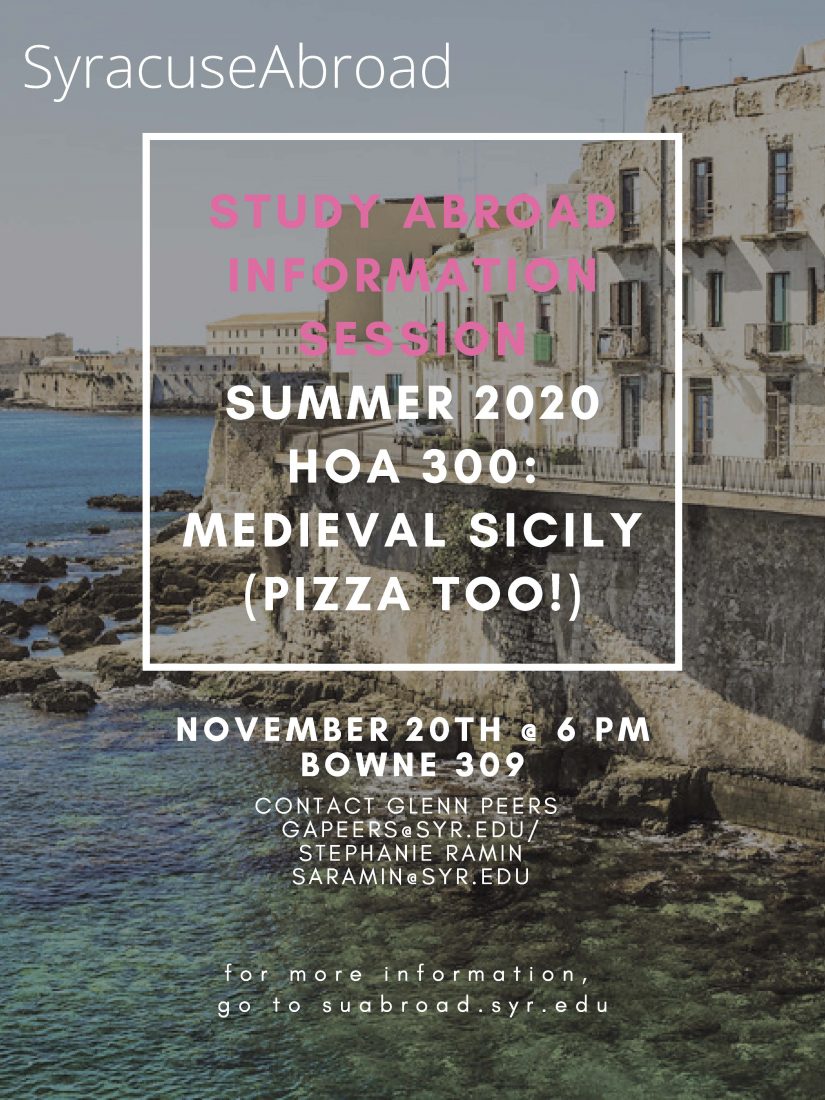 This class will be spent in the city of Siracusa (the original Syracuse!), walking, talking, and looking at art, churches and urban topography, in order to experience directly the rich and fascinating history of the city and the island of Sicily.  It will focus primarily on the art and architecture of the diverse cultures that came together in Siracusa's ancient and medieval past–the various Christian, Muslim and Jewish communities that made Sicily one of the most multicultural societies of this time.
Due to its location at the center of the Mediterranean and its proximity to North Africa and Italy, Sicily has always been a crossroads for trade and travel, as well as the object of colonization and conquest.  The complex layers of ancient and medieval Sicilian culture provide a unique opportunity for students to immerse themselves in the swirling currents of the Mediterranean in the past and in the present. In antiquity, Phoenician traders and Greek colonizers were succeeded by Roman conquerors, who controlled the island when the Christian apostle Paul visited.  Vandals and Ostrogoths attempted to wrest the province from Roman control in the fifth century; the Byzantines, based at what is now Constantinople, repossessed it and even moved the capital to Syracuse in 660s, but the island fell to Muslim armies in the ninth century; Normans, warriors from the north, conquered Sicily in a Crusade in the eleventh century; and French and Spanish kings ruled the island for the remainder of the medieval period. Shifting patterns of immigration have continued to enrich and complicate the religious and cultural make-up of the island into the twenty-first century, as new histories emerge and old ones are refashioned.
This event was published on November 20, 2019.
---
Event Details
Category

Region

Main Campus

Open to

Current Students

Cost

Free

Contact

Glenn Peers
gapeers@syr.edu
512-831-1732

Accessibility

Contact Glenn Peers to request accommodations