Arts and Performance
Geek/Art CONfluence
October 5, 2019 at 1:00pm – 5:00pm EDT
This event has already occurred. The information may no longer be valid.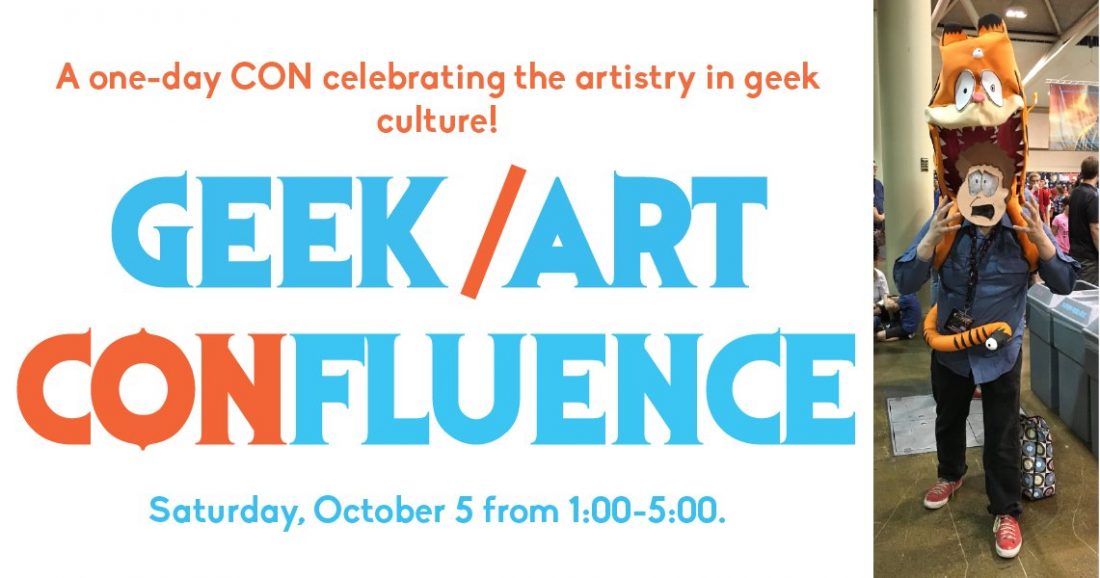 A one-day CON celebrating the artistry in geek culture!
The Geek/Art CONfluence will feature artists and academics, faculty and students, from multiple central New York universities, all talking and showing off their work about geek culture. PLUS: cosplaying, cosplay demos, lightsaber demonstrations, and more!
Everyone who likes geek culture, or wants to know more about it, is invited and welcome! FREE and open to the public!
Featuring multiple student clubs, including the Comic Club, Gaming Club, and Pokemon Go Club. Each will showcase what they do, from published zines to RPGs. Featuring the official Star Wars costuming groups the 501st Legion and the Rebel Legion, and the local lightsaber dueling group, the Gathering of Sabers. Featuring award-winning local cosplayer Christina Lavinski doing a cosplay demo.
Come to hear the panels, watch a lightsaber demo, see the cosplayers, check out the groups. Come in costume!
COMICS: FROM CREATION TO RECEPTION AND BACK AGAIN: 1:00-2:00 p.m.
Frank Cammuso: "Making Comics Locally"
Ed Catto: "Before Riverdale, Before Sabrina: Archies' Red Circle Sorcery Line"

Christy Knopf: "The Genre Crossovers and Gender Crossplays of DC Comics Bombshells"
ANALYSIS & INFLUENCES OF GEEK CULTURE: 2:00-3:00 p.m.
Alayna Vander Veer (Ithaca College): "Big Breasts and Badass: An Analysis of Two Anime Characters"
Claire Virginia Pitcairn (Ithaca College): "The Artistry of the 19th Century in Contemporary Media"
Angelina Manganese (Syracuse University): "TokuTalk" (Japanese movies)
HISTORY, IDENTITY, AND VALUES in FAN CULTURE: 3:00-4:00 p.m.
Gael Sweeney: "The Unlikely Rise of Fan Fiction"
Diane Wiener: "(Dis)ability in Comics and Cosplay"
Ben Judkins: "The Weapon of a Jedi Knight: Identity and Values in the Hyper-real Martial Arts Leisure
FROM A CREATOR'S POINT OF VIEW: 4:00-5:00 p.m.
Brian Power (IthacaCollege): "Your Own Origin Story"
Nina Piazza (Syracuse University): "Writers are Readers First"
John Licinio (Syracuse University): "Worldbuilding Without Exposition for Crusader Kings 2"
This event was first published on September 23, 2019 and last updated on October 3, 2019.
---
Event Details
Category

Open to

Public

Cost

Free

Organizer

Contact

Syracuse University Art Museum
suart@syr.edu
+1.315.443.4097

Accessibility

Contact Syracuse University Art Museum to request accommodations
Parking

For parking information please visit parking.syr.edu