Architecture
Homo-Symbiosis
September 9, 2019 – November 2, 2019 EDT
This event has already occurred. The information may no longer be valid.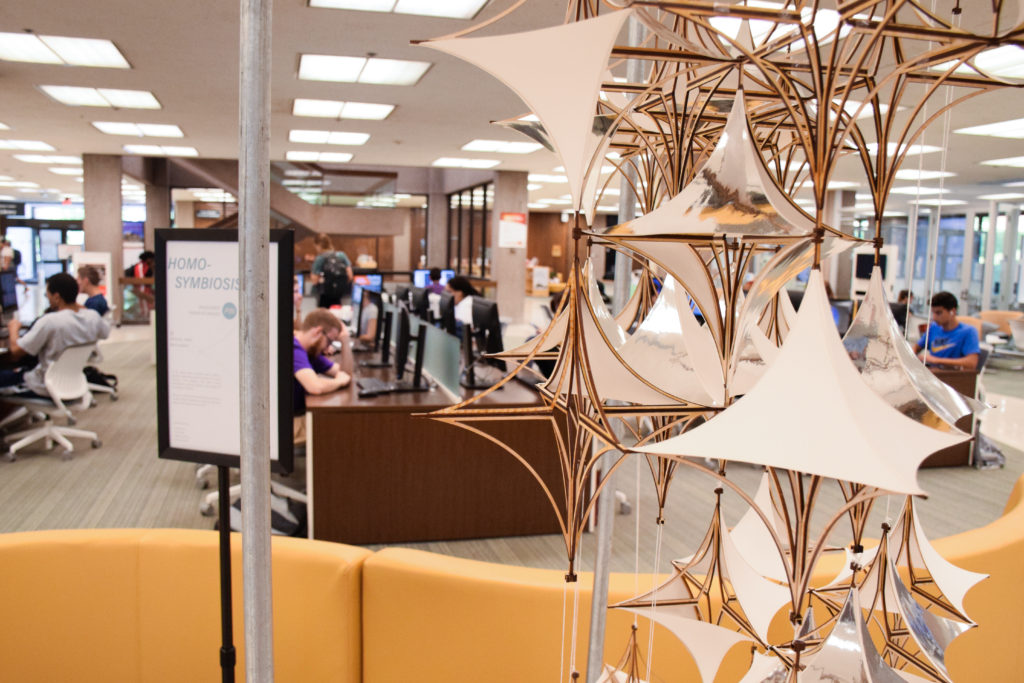 Stop by the Learning Commons to view this architectural installation by students Benson Joseph and Parinda Pin Sangkaeo from the School of Architecture.
Too often we are easily influenced by the latest buzz feed, political pundit, and our president's most recent tweet. In the process, we tend to forget our common humanity. The virtual realm of free speech has been turned into isolated cocoons constructed from a series of algorithms designed to categorize the individual into a nest of their own mind. We are neither for the individual or the collective consciousness. We believe in the example provided by the natural world, that everything exists within a symbiotic relationship. Therefore, both parties are of equal necessity. The installation aims to illustrate the idea into a tangible construction. Where the whole is the sum of its parts. Each individual hold within unique characteristics, perfectly suitable for the machine of our collective civilization. The irregular arrangement of the whole aims to render an idea of flexibility offered and limited by one's imagination, implying many possible configurations. Next, the slight variation of every single diamond within a module of nine cater to the unique characteristics of an individual. Finally, the mirror surfaces act as a reminder that you, as an individual within the collective, are the spectator. Your role as a crucial participant through the use of the reflected surfaces reiterate the equal necessity of both complementary bodies.
This event was first published on September 4, 2019 and last updated on September 12, 2019.
---
Event Details
Category

Type

Region

Main Campus

Open to

Alumni,
Faculty & Staff,
Parents & Families

Contact

Lesley Pease
ldpease@syr.edu

Accessibility

Contact Lesley Pease to request accommodations