Communications Journalism Media
Music industry first jobs panel with Bandier alumni
February 19, 2020 at 6:45pm – 8:05pm EST
Whitman School of Management, 007
This event has already occurred. The information may no longer be valid.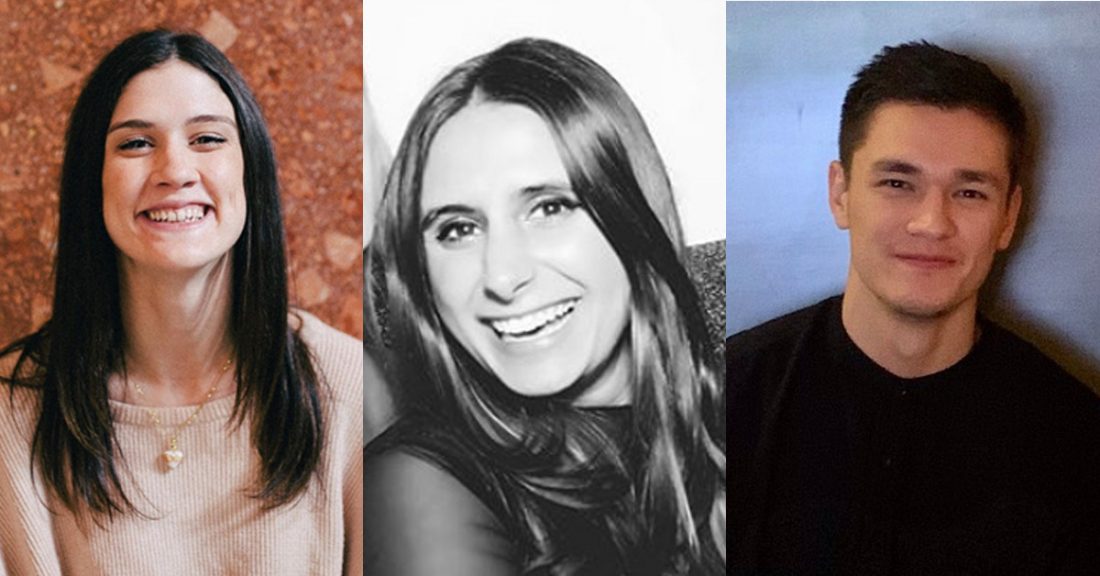 Please respect that this lecture series is an off-the-record event, with a no social media policy. What happens in Rezak stays in Rezak. Thank you.
It's getting to be that time of year: seniors are increasingly focused on what they will be doing after graduation and, yes, how they will land their first job. Here to help with that thinking are three recent Bandier Program graduates, each working in top entertainment companies. We will discuss strategies and tactics for building and leveraging your network, skills and approaches that underclassmen should be considering, and much more. In addition, we will also learn about each of these speakers day-to-day jobs.
Erin Singleton '17
Booking coordinator, Paradigm Talent Agency
Erin Singleton works at Paradigm Talent Agency as a booking coordinator in the music touring department working directly for agents Matt Adler and Jason Kupperman. Prior to Paradigm, Singleton worked within the music touring department at Creative Artists Agency for a few months immediately following graduation. She made the switch in agencies after Adler and Kupperman specifically asked her to join their booking team at Paradigm. Her work experience has been primarily focused in the touring world, including internships at AM Only and CAA, as well as booking shows on campus as concert director for University Union while attending Syracuse University.
Singleton started with Paradigm as an assistant in October 2017, helping with general administrative tasks, ticket sales tracking, marketing, contracting and financial settling, before transitioning into her new position as booking coordinator in December 2019. In her current role, she assists with the routing, booking, and execution of tours, concerts, festivals, and other types of shows on behalf of her team's clients. In addition, she helps scout out new artists to sign to their roster. She works closely with nearly 80 artists and their respective management, business management, attorney, and label teams, such as Lauv, Big Gigantic, Noah Cyrus, Hippie Sabotage, beabadoobee, Charlie Burg (S.U. alumnus), Alec Benjamin, Yung Gravy, Lolo Zouaï, Waka Flocka Flame, grandson and Dennis Lloyd.
She surprisingly has other interests outside of music; she launched the Women's Empowerment Project while a senior in the Bandier Program at Syracuse University and remains passionate about political and social topics. She is also an avid world traveler.
Hannah Friedland '16
Manager of marketing strategy, Republic Records
Hannah Friedland has worked at Republic Records since December 2017 and is currently a manager of marketing strategy. She also doubles as Kacey Musgrave's No.1 fan. Friedland leads marketing on acts such as Kate Tempest, somegirlnamedanna, Hero The Band and others. She works with Republic Records VP of marketing and Bandier Program alumnus Alex Coslov '12 on his artists James Blake, Greta Van Fleet, James Bay, Florence + The Machine, Lord Huron and many more.
In Friedland's current role, she runs point for Republic Records on various projects working with managers, artists and the internal team to release amazing music, market the entire campaign and bring the artist vision to life. At Republic, she started off as an assistant in the marketing department before transitioning into her current role last December after she ran lead on Kate Tempest's critically acclaimed wonderful spoken word album that released in June and was produced by the legendary Rick Rubin.
Prior to Republic, Friedland worked at Warner Music in their brand partnerships department assisting Syracuse University alumnus Lori Feldman. Friedland got her start working for opener Moxie Raia on Justin Beiber's Purpose World Tour as a touring assistant, which she got through an amazing Bandier Program connection. During her time at Syracuse University in the Bandier Program she interned at MAC Presents, Cornerstone/FADER and Vh1.
Steve Magee '16
Label manager, 300 Entertainment
Steve Magee is from Millburn, NJ and graduated from the Bandier Program in 2016. During his time at Syracuse University he was involved with the University Union Concert Board and held internships at Complete Control Management, AM Only, Cornerstone and Live Nation Entertainment. Despite a background focused on live music, as he neared graduation he decided instead to pursue career opportunities in artist management and recorded music.
Magee started working at 300 Entertainment in October 2016 as a business operations coordinator and currently holds the title of label manager. As label manager he oversees day-to-day business and administrative operations of the company.  Roles and responsibilities include royalty administration, business development, budget/P&L forecasting, and travel/HR management. Magee is Kacey Musgraves' second biggest fan and has a really tough time keeping his plants alive.
This event was published on February 14, 2020.
---
Event Details
Category

Type

Open to

Public

Contact

Lisa Steele
llsteele@syr.edu
315-443-1388

Accessibility

Contact Lisa Steele to request accommodations