Engineering and Technology
Occupant Behavior Driven Smart Building Controls, A SyracuseCoE Research & Technology Forum
January 21, 2020 at 3:30pm – 5:00pm EST
Syracuse Center of Excellence, 203
This event has already occurred. The information may no longer be valid.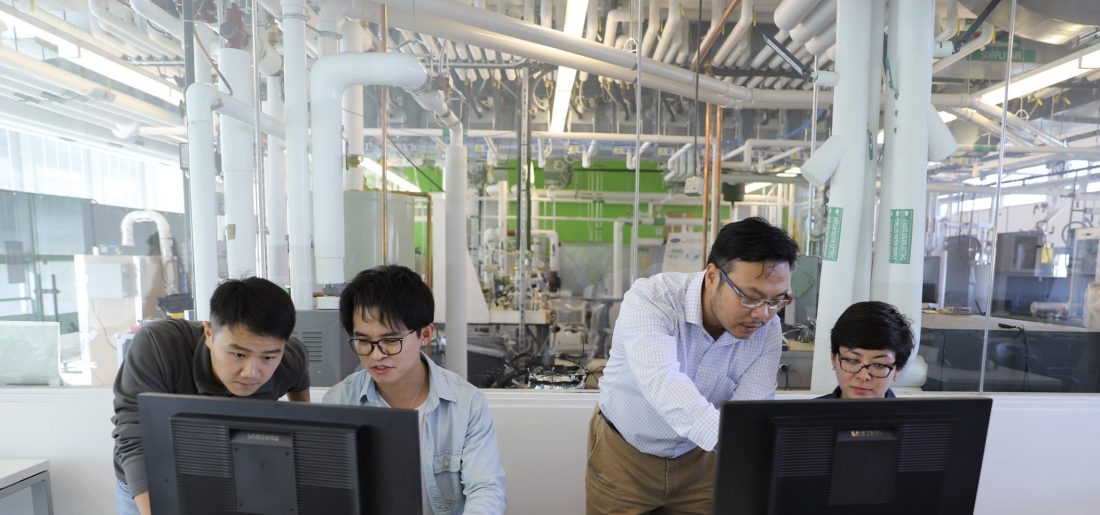 In the US, people spend 87% of their time in buildings. Understanding dynamic occupant presence and thermal comfort needs is crucial to ensuring that building design and operations provide healthy and productive living and working environments. Occupant behavior is becoming a leading factor for building energy use, but there are challenges to studying occupant behaviors, as they are complex and ever-changing. Privacy issues and the high cost of sensors can make data collection difficult. The constant changes in the built environment caused by occupant behavior also result in both physiological and psychological effects on the occupants.
Join us as we examine the challenges, benefits and opportunities of integrating occupant behaviors into the design and management of the built environment.
Professor Bing Dong's presentation will cover various research projects related to behavior-driven controls and optimization of smart and connected buildings, from behavior-driven individual building energy optimization to urban scale energy management, from equipment level optimal controls to large scale buildings-to-grid integration. Professor Dong will conclude with a research vision on behavior-driven urban energy infrastructure planning and management within a smart and connected community.
Steven VonDeak will present the people count sensor platform, Density, Inc. To put it simply — Density counts people. Understanding how many people are in a space helps organizations improve building performance by making them safer, more efficient and more productive. Density's people counting system places a premium on three key functionalities: anonymity, accuracy, and real-time data availability. This real-time room occupancy provides insight for a variety of use cases including intelligent demand-controlled HVAC operation. Organized in 2014, Density has grown to a 50-person startup and their proprietary hardware/software system is all assembled, tested and packaged right in Syracuse, NY.
Moderator:
Laura J. Steinberg
Interim Executive Director, SyracuseCoE
Executive Director, Syracuse University Infrastructure Institute
Professor, Civil & Environmental Engineering, College of Engineering and Computer Science, Syracuse University
Dr. Steinberg's research focuses on environmental phenomena's effect on infrastructure, including how climate change is impacting infrastructure and environmental disasters. Her areas of expertise include environmental modeling and policy, diffusion of innovation, and critical infrastructure protection. In addition to the role of interim executive director of SyracuseCoE, she is currently working with a multi-disciplinary team to determine how best to serve the needs of veterans and active military members who are interested in using the Post 9/11 GI Bill to pursue undergraduate or graduate education. The team is investigating the educational aspirations and perceived obstacles of the veterans and members of the military using quantitative and qualitative methods, including extensive on-site interviews.
Presenters:
Bing Dong
Associate Professor, Mechanical & Aerospace Engineering, College of Engineering and Computer Science, Syracuse University
Dr. Dong has more than 15 years of experience in building energy performance simulation, building controls and HVAC FDD. He is also actively involved in projects related to occupancy behavior modeling in buildings, machine learning for sustainability, wireless sensor networks in buildings and building information modeling. He has published more than 50 peer-reviewed papers. His papers are cited more than 400 times by other researchers around the world. He specializes in Occupancy Behavior Modeling, Energy Performance M&V, Model-based Building HVAC Controls; Energy Performance Simulation, HVAC FDD and BIM.
Steve VonDeak
Co-founder and Chief of Staff, Density, Inc.
Steven VonDeak is a co-founder and Chief of Staff at Density Inc, a 50-person venture-backed enterprise IoT company. Incorporated in 2014, Density helps organizations improve the performance of their space by making it safer, more efficient, and more productive. From 2014  to 2019, VonDeak has been responsible for supporting the varied operational needs of Density, including: finance, legal, and human resources. He is also the general manager of Density's Syracuse office, where the company was founded and continues to run significant operations today. From 2008 to 2014, VonDeak founded and operated a digital consultancy specializing in web and mobile application development. He holds a JD from Syracuse University College of Law '08 and a BA from the University of Rochester '05.
This event was published on January 10, 2020.
---
Event Details
Category

Region

Greater Syracuse

Open to

Public

Cost

Free

Contact

Kerrie Marshall
klmarsha@syr.edu
3154438951

Accessibility

Contact Kerrie Marshall to request accommodations
Parking

Parking is located on site and can be accessed via the Forman Avenue entrance, east of the building. Syracuse University Parking Services patrols the SyracuseCoE Parking lot and will issue tickets for those parking without a Syracuse University parking permit. Hourly or daily metered passes may be purchased from one of the two parking kiosks in the lot – one near the pavilion on East Washington St and the other near the eastern edge of the lot. Cost for a pass is $2.25/hour, up to a maximum of $7.75 valid through midnight of that same day.