Arts and Performance
The Bio-Art Mixer #8 Online Symposium | Session One
July 23, 2020 at 6:00pm – 9:00pm EDT
Virtual (See event details)
This event has already occurred. The information may no longer be valid.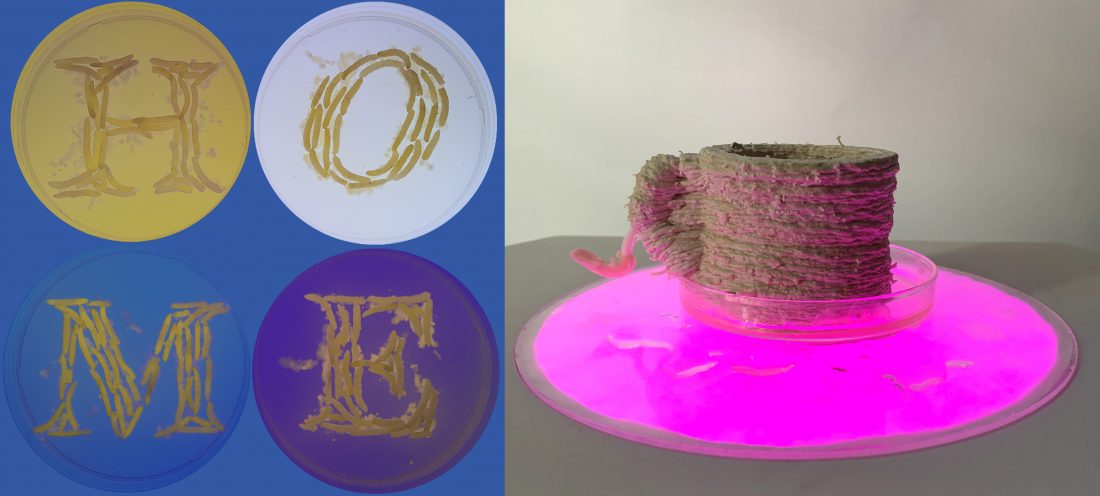 The Department of Transmedia is happy to announce the Bio-Art Mixer Online Symposium, July 23rd and August 20th. Artists and scientists will share their research over a series of eight talks, followed by a Q&A.
The Bio-Art Mixer has been initiated by Heidi Hehnly, Ph.D. Biology, SU; Boryana Rossa Ph.D. Transmedia, SU in collaboration with Canary Lab.
Zoom ID: 960 6040 1646
Presenters
Jude Abu Zaineh Ph.D. Department of Arts, Rensselaer, Troy, NY
Darya Warner, Department of Fine Arts, University at Buffalo
Laura Markley, Ph. D. candidate in Civil and Environmental Engineering, Syracuse University
Julia Zeh, Ph. D. candidate in the Bioacoustics and Behavioral Ecology Lab, Syracuse University
Presentations
Jude Abu Zaineh Ph.D.
Department of Arts, Rensselaer, Troy, NY
Jude Abu Zaineh will give an overview of her practice which relies on the use of art, food, and technology to investigate meanings of cultural diaspora, displacement, and belonging. She examines ideas of home and community while working to develop aesthetics rooted in her childhood and upbringing in the Middle East.
Jude Abu Zaineh is a Palestinian-Canadian multidisciplinary artist and cultural worker. She was one of the first selected artists to participate in a collaborative residency with the Ontario Science Centre and MOCA Toronto (Canada). She has presented her work nationally and internationally including Cultivamos Cultura, São Luis, Portugal; Museu de Arte, Arquitetura e Tecnologia, Lisbon, Portugal; Centro de Cultura Digital, Mexico City, Mexico; SVA, NYC, USA; Ontario Science Centre, Toronto, Canada; Forest City Gallery, London, Canada; Artspeak Gallery, Windsor, Canada; Common Ground Gallery, Windsor, Canada. Abu Zaineh is currently pursuing her Ph. D. in Electronic Arts at Rensselaer Polytechnic Institute in upstate NY (USA).
Laura Markley
Ph. D. candidate in Civil and Environmental Engineering, Syracuse University
Investigating Microplastic pollution in Onondaga and Skaneateles Lakes
Microplastics are an emerging contaminant in freshwater ecosystems, with regional importance for water resources in central New York. Microplastics can wash into lakes and streams from wastewater effluent, degraded litter, personal care products, car tire abrasion, and many other sources, where they may facilitate the transport of contaminants and be ingested by wildlife. This work, funded by the USGS, aims to characterize the abundance, distribution, and potential sources of microplastics in Onondaga Lake and its major tributaries and outlets, as well as a general survey of Skaneateles Lake, which provides drinking water for the city of Syracuse.
Laura Markley is a Ph. D. candidate in Civil and Environmental Engineering advised by Dr. Charles Driscoll and Dr. Andria Costello-Staniec. She has her B.S. and M.S. in Environmental Earth Science and has research experience spanning multiple disciplines, including the geosciences and soil geochemistry. Her dissertation work is focused on the impacts of the life cycle of plastic on human and environmental health. She also runs an educational website, wastefreephd.com, communicating the science of waste to a broad audience.
Darya Warner
Department of Fine Arts, University at Buffalo
MycoPrinter
MycoPrinter is an open-source 3D bioprinter that prints mycelium substrate ready for inoculation with various types of fungi thus combining additive manufacturing with biological tissue to create a living sculpture. It aims to bring together engineering, biological sciences, and art under the umbrella of open citizen science. As a traveling artwork, it becomes a major contributor to the series of site-specific temporal sculptures. The first site MycoPrinter will address is Buffalo China Factory will and explore our relationship with local ecological systems (fungi) through technology in the form of the new hybrid matter. MycoPrinter has a much broader intended application besides "mycoprinting". It is designed to print beyond fungi, to be versatile and mobile, inexpensive, and easily assembled under limited access to the materials.
Darya Warner works at the intersection of art and science with an emphasis on the interconnectivity of intelligence across species through the prism of Climate Change. Her projects explore the Biophilia Hypothesis, also known as "the love of all living thing", as a crucial factor in reconnecting humans and nature via interactive installations, visual displays, photography, sound, time- based media, and bioart in the new form of hybrid matter. She addresses issues of environmental impact among artists and connects creative processes to earth-conscious practices, which is a cornerstone of her research on sustainable art practices.
Julia Zeh
Ph. D. candidate in the Bioacoustics and Behavioral Ecology Lab, Syracuse University
Julia Zeh is a Ph. D. candidate in the Bioacoustics and Behavioral Ecology Lab working with Dr. Susan Parks. She earned a B.A. from Columbia University in 2018 before enrolling at Syracuse where she is a National Defense Science and Engineering Graduate Fellow. Julia is interested broadly in the ecology and evolution of complex animal communication systems, with a focus on baleen whale acoustic signals. Additionally, she is interested in science communication, education, and outreach.
—————————————-
Presentations Expected for  August 20th
Matej Vakula, Ph. D. candidate in Electronic Arts, Rensselaer, Troy, NY
Jenifer Wightman, Cornell University, Dept of Crop and Soil Science
And two more TBA
Recordings of our Bio-ARt Mixers 
Images by Jude Abu Zaineh and Darya Warner
This event was published on July 20, 2020.
---
Event Details
Category

Type

Region

Online

Open to

Current Students,
Faculty

Cost

Free

Contact

Boryana Rossa
bddragoe@syr.edu
518.961.6683

Accessibility

Contact Boryana Rossa to request accommodations