Communications Journalism Media
LGBTQIA+ in the Music Industry
April 7, 2021 at 6:45pm – 8:05pm EDT
Virtual (See event details)
This event has already occurred. The information may no longer be valid.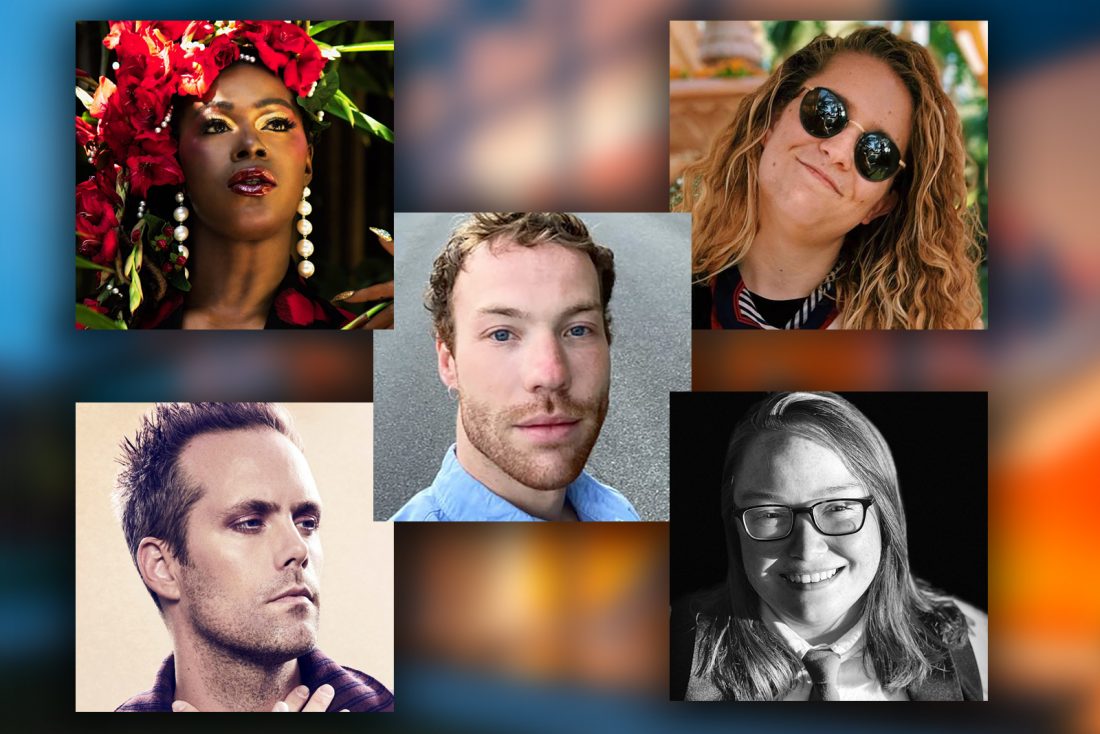 Please respect that the discussions in this lecture series are off-the-record, with a no social media policy. If you are not registered for this class and would like to join the event, please email bwerde@syr.edu.
The LGBTQIA+ community has a long history of innovation and boundary-breaking, in society at large and certainly within the music industry. This week's Rezak Lecture assembles a panel of music industry leaders, both on the creative and business fronts, ready to share their experiences and assess the current state of LGBTQIA+ artists and issues. We will discuss ways to promote inclusivity while also allowing each speaker to share stories about their paths and work in the music business.
Shea Diamond – Artist and Songwriter
"The struggle looks different for different people. But this music is for everyone." So testifies Shea (pronounced she-uh) Diamond, who, with a gritty mix of sounds that digs into everything from R&B, rock and hip-hop to blues, folk and gospel, makes music that speaks to the universal experience while sharing from her very personal one. Diamond has always had to fight to live her truth. As a Black transgender woman, that's just what she does every time she walks out into the world—representing herself and amplifying the voices and experiences of her community. But now after all of her struggle, this game-changing new singer-songwriter is living her dream, with an HBO theme song, performing for presidential candidates and notable super fans like Sam Smith and Demi Lovato singing her praises every chance they get.
Her soulful and soul-baring debut EP (Asylum Records) was executive-produced by hit songwriter Justin Tranter. On "Seen It All," Diamond—who is now calling Los Angeles home as she sets out to conquer the music world—bravely tells her truth to a world that hasn't always wanted to really see her. "I'm the flame that you can't unsee," she announces with unapologetic honesty on the haunting opener "American Pie." The guitar-greased centerpiece of "Seen It All" is "I Am Her," an empowering trans anthem on which Diamond defiantly belts, "Never asked for no one's philosophy/It's obvious I'm proud of me." Diamond says, "It speaks on the rejection from religion, the rejection from family and having to be all right by yourself, you know what I mean? After the world has shunned you and said, 'Look, we don't want you,' you have to want yourself. I contemplated suicide several times as a youth because nobody wanted me."
Since the release of the GLAAD Media Award-nominated EP, Diamond and Tranter have cowritten two new stand-alone singles. The ever so timely "Don't Shoot" and "I Am America," the protest celebration that proclaims "my existence is a riot!" The latter serves as the theme song to HBO's "We're Here" and is getting a lot of early Emmy buzz.
Justin Moran – Digital Director, Paper Magazine
Justin Moran is the digital director at Paper Magazine. Having studied fashion business and magazine journalism at Columbia College Chicago, Moran has experience at countless publications and fashion brands, including Bullett Magazine, Nylon Magazine, Nicopanda and Out Magazine. A contributing writer for Paper since 2014, Moran has overseen some of the publication's biggest stories, from Lady Gaga to Demi Lovato, as digital director.
Lisa Ritchey – Associate Manager, Artist and Label Partnerships, Spotify
Lisa Ritchey started her career working in VIP Ticketing. There, she offered artists such as Garbage, Charlie Puth, Thirty Seconds To Mars and others an additional revenue model while touring and a way to engage fans on a deeper level. She moved into the booking world where she worked for Tom Windish (Billie Eilish, Lorde, alt-J and more), founder of The Windish Agency and partner/head of A&R at Paradigm Talent Agency. Ritchey currently works on the artist and label partnerships team at Spotify where she explores marketing and partnership opportunities with labels, artists, managers and more, with a focus on indies and Warner labels. She also helps manage music strategy for the company's yearly Pride campaign and evergreen LGBTQIA+ initiatives.
Sarah Stickle – A&R Director, Altadena and Artist Manager, Born & Raised Entertainment
Sarah Stickle is an LA-based A&R director working across management, publishing and records for Altadena and Born & Raised Entertainment. She currently works with artists, songwriters, producers and mixers including Tony Maserati, Lindsey Lomis, JP Clark, Michelle Buzz, Ryan Daly, Paris Carney, Tim Pagnotta and Tommy English, among others.
Prior to her time at Altadena and Born & Raised, Stickle served as sessions manager for Kobalt Music Publishing coordinating sessions for artists such as Camila Cabello, Marshmello, Anne-Marie, Kali Uchis, Gunna, Hayley Kiyoko and others. She got her start as assistant and eventual day-to-day manager for songwriter/producer Dan Wilson. Stickle is from Burlington, Vermont, where she graduated from the University of Vermont while managing local bands, talent buying, production managing events and engineering live shows at historic punk venue 242 Main.
Justin Tranter
– Songwriter and Founder, Facet Records
Within five years, Justin Tranter reshaped, reconfigured and redefined popular music as a Grammy Award-nominated songwriter with over 40 million single sales, 7 billion streams and dozens of honors and award nods thus far. If anybody can properly identify, galvanize and highlight talent, it's Tranter.
Their songwriting career thus far spans generational smashes ranging from Justin Bieber's "Sorry" and Selena Gomez's "Good For You" (feat. A$AP Rocky) to Halsey's "Bad At Love," Fall Out Boy's "Centuries," DNCE's "Cake by the Ocean" and Academy Award nominee Hailee Steinfeld's "Love MySelf."
Tranter has written on several of the biggest albums in recent memory, including Ariana Grande's "Thank U, Next" (2019), the Jonas Brothers' "Happiness Begins" (2019), Lady Gaga's new album "Chromatica" (2020), The Chicks' comeback album "Gaslighter" (2020) and Selena Gomez's new No. 1 album "Rare" (2020). Tranter co-wrote five songs on "Rare," including the smash single "Lose You to Love Me," which skyrocketed to the top spot on the iTunes Top 100 Songs Chart upon its release and claimed the No. 1 spot on the Billboard Hot 100 Chart not long after. Across the past few years they have written regularly with some of the biggest names in music such as Dua Lipa, Demi Lovato, Camila Cabello, King Princess, YUNGBLUD, Imagine Dragons' Dan Reynolds, Kesha and more, and have co-written two television theme songs with Shea Diamond for the HBO original shows "We're Here" and "Equal." Their creative fingerprint even extends to the world of film, as they recently served as the executive producer of the soundtrack for Hulu's acclaimed new holiday film "Happiest Season."
Beyond songwriting, Tranter has also reimagined the industry from a different angle as an entrepreneur, mini-mogul and founder of Facet Records alongside their longtime publisher Katie Vinten and in conjunction with Warner Records. With a record label and publishing company under Facet, they have built a platform for the next vanguard of genre-blurring, game-changing and groundbreaking artists, songwriters, producers and talent to flourish. In early 2020, they officially unveiled their brand new, state-of-the-art recording studio and headquarters located in the heart of West Hollywood.
Tranter simultaneously remains a dedicated philanthropist and GLAAD board member that gives back at every turn, and even earned the prestigious ACLU Bill of Rights Award in late 2019 for their prolific work in activism. Their 2018 donation to their high school alma mater, The Chicago Academy for the Arts, funded a cutting-edge recording studio and the hire of a part-time music teacher. Since 2017, Tranter has also hosted, curated and produced an annual Spirit Day Concert. 2019's event, titled "Beyond," raised over $400,000 in support of GLAAD's Spirit Day anti-bullying campaign. It was a record for the concert.
This event was first published on April 5, 2021 and last updated on April 6, 2021.
---
Event Details
Category

Region

Virtual

Open to

Public

Contact

Lisa Steele
llsteele@syr.edu
315.443.1388

Accessibility

Contact Lisa Steele to request accommodations