Arts and Performance
Geek/Art CONfluence | Online Comic Con
March 20, 2021 at 10:00am – 6:00pm EDT
No location (See event details)
This event has already occurred. The information may no longer be valid.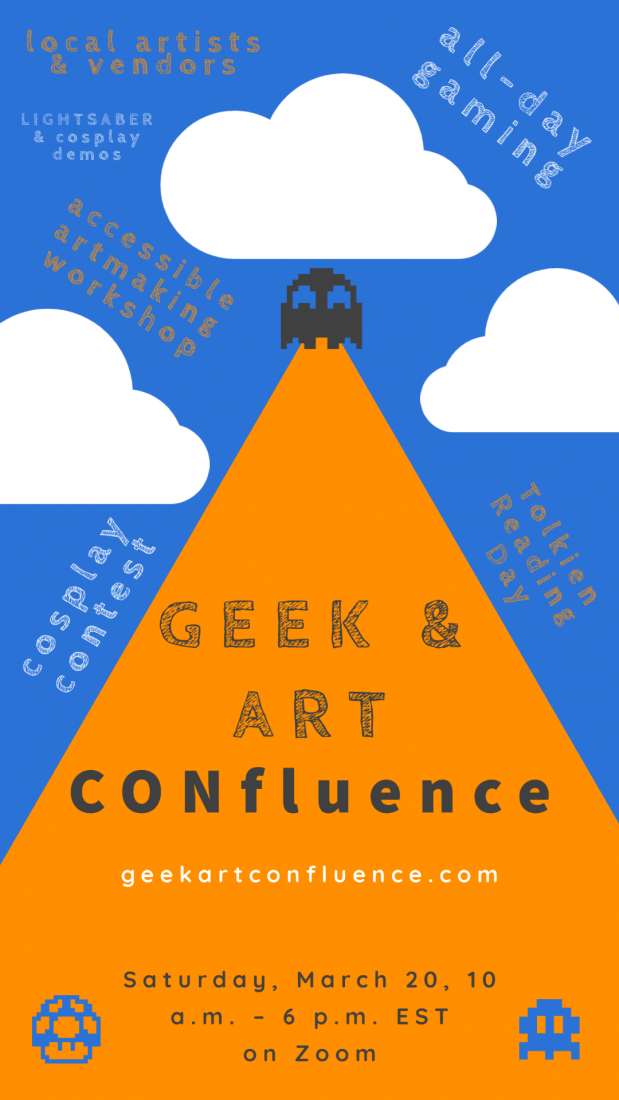 The second Geek/Art CONfluence, an online comic con taking place in conjunction with Syracuse University, will be held on Saturday, March 20, 2021, from 10 a.m. – 6 p.m. EST on Zoom.
This CON, a celebration of all things geeky, is open to everyone, anywhere, for free.
Geekartconfluence.com holds the CON's schedule and Zoom information.
We are currently accepting entries for our online cosplay contest. Visit the website for details! Entries due March 13.
The 2021 Geek/Art CONfluence will feature
Artist speakers Ben Marra, Natalie Riess, and Maya McKibbin.
Four panels on geek culture by faculty, students, and other members of the geek culture community, with presentations on topics such as disabilities in the circus, Chinese web-based C-novels, rock music in Bronze Age comics, and zines about human-computer interaction.
Presentations by the Bird Library Special Collections Research Center and the Syracuse University Art Museum, on their geek culture holdings.
An online cosplay contest, judged by Kate McKay (Andromeda's Alchemy), Wendell Smith, Sr.(Skorpking Costuming), and Jay Stilipec (Jazmine Cosplays).
A session of Tolkien Reading Day, where people get together to read the works of J. R. R. Tolkien aloud.
Lightsaber and cosplay demos, featuring The Gathering of Sabers, Ithaca Sabers, and Christina Lavinski.
A scavenger hunt and discussion of Star Wars costuming with the 501st and Rebel Legions.
A workshop on accessible, healthy, digital art-making spaces by SU alum, Gilles Stromberg.
Video chat rooms to relax and talk about comics, movies, your collections, and anything else with like-minded geeks.
All-day gaming, including a one-shot RPG (sign up in advance for the RPG through our website).
Links to local artists and vendors.
And more!
The Geek/Art CONfluence is dedicated to providing a diverse, inclusive experience—with a focus on increasing awareness of disabilities within geek culture—in partnership with Syracuse University's "Cripping" the Comic Con, aka CripCon.
Contact Chris Wildrick with any questions.
Co-organizers: Frank Cammuso, Diane R. Wiener, and Rachael A. Zubal-Ruggieri.
Find us on Facebook.
Partially funded by the School of Art at Syracuse University.
Zoom Links
Talks Zoom Stream
https://syracuseuniversity.zoom.us/j/99942774387
March 20, from 10 a.m. – 6 p.m.
Meeting ID: 999 4277 4387
Passcode: 733884
Activities Zoom Stream
https://syracuseuniversity.zoom.us/j/91712775040
March 20, from 10 a.m. – 6 p.m.
Meeting ID: 917 1277 5040
Gaming Zoom Stream
March 20, from 10 a.m. – 6 p.m. 
https://syracuseuniversity.zoom.us/j/96356402736
Meeting ID: 963 5640 2736
This event was first published on February 25, 2021 and last updated on March 16, 2021.
---
Event Details
Category

Type

Open to

Public

Cost

Free

Organizer

Contact

Chris Wildrick
cwildric@syr.edu

Accessibility

Contact Chris Wildrick to request accommodations