Arts and Performance
Alf Jacques & Lacrosse
October 17, 2021 at 1:00pm – 2:00pm EDT
6680 Onondaga Lake Parkway Liverpool, NY
This event has already occurred. The information may no longer be valid.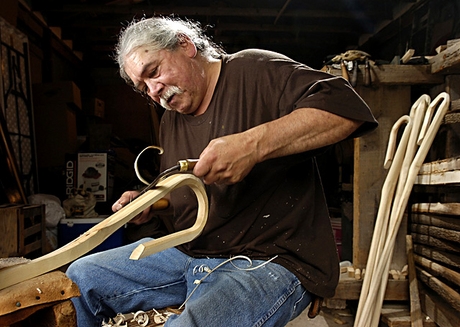 World-renowned wooden lacrosse stick maker, Alf Jacques, of the Onondaga Turtle Clan, will be presenting on the game of Lacrosse, or Deyhontsigwa'ehs at the Skӓ·noñh-Great Law of Peace Center.
In this one-hour program, Alf will explain the significance of Lacrosse to the Haudenosaunee and will discuss the evolution of the game using his extensive collection of sticks, both old and new, from across Turtle Island. Alf will also give a demonstration on his wooden stick making process. Questions and participation will be encouraged!
This event is being sponsored by the Skӓ·noñh-Great Law of Peace Center, Indigenous Values Initiative, American Indian Law Alliance, and the Syracuse University Art Museum in collaboration with their current exhibit: Each One, Inspired: Haudenosaunee Art Across the Homelands.
Lacrosse (Deyhontsigwa'ehs)
Imagine Central New York without Lacrosse. Players, schools, and colleges from this area have benefitted from the fact that the game of Deyhontsigwa'ehs, has been played here since time immemorial. It is the ancient Haudenosaunee fame first seen by colonists in the 17th century that has become one of the fastest growing sports in the world. But Lacrosse is more than a game to the Haudenosaunee. The Medicine Game of Deyhontsigwa'ehs is the Creator's game and is used as a form of ceremonial healing and to uplift people's spirits. 
Alf Jacques Bio
Alf Jacques, Onondaga Turtle Clan, is one of the most well-known and respected wooden lacrosse stick makers in the world.  Alf has been making wooden lacrosse sticks for over 50 years.  He learned the stick making process from his father, Lou Jacques, and has mentored many wooden stick makers working today. Each stick takes an average of 8 months to make and there is a long waiting list for those interested in buying one. In addition to making wooden sticks, Alf has also been a lacrosse player and coach. He played for the Syracuse Stingers in 1974 and has been involved with the Onondaga box lacrosse league for most of his life. In 2014, Alf was inducted into the Upstate NY Chapter of the U.S. Lacrosse Hall of Fame for his contributions to the sport.
This event was published on September 24, 2021.
---
Event Details
Category

Type

Region

Greater Syracuse

Open to

Public

Cost

Free

Organizer

Contact

Emily Dittman
ekdittma@syr.edu
3154434097

Accessibility

Contact Emily Dittman to request accommodations
Parking

Free transportation to the center from campus provided by the Syracuse University Trolley following the below scheduled: Depart College Place: On the hour at 12pm, 1pm, 2pm and 3pm. Depart the Skӓ·noñh Center: On the half hour at 12:30pm, 1:30pm, 2:30pm and 3:30pm