Sporting Contests
Intramural Sled Hockey Fall 2022 Registration
July 5, 2022 at 8:00am – September 23, 2022 at 5:00pm EDT
Tennity Ice Skating Pavilion
This event has already occurred. The information may no longer be valid.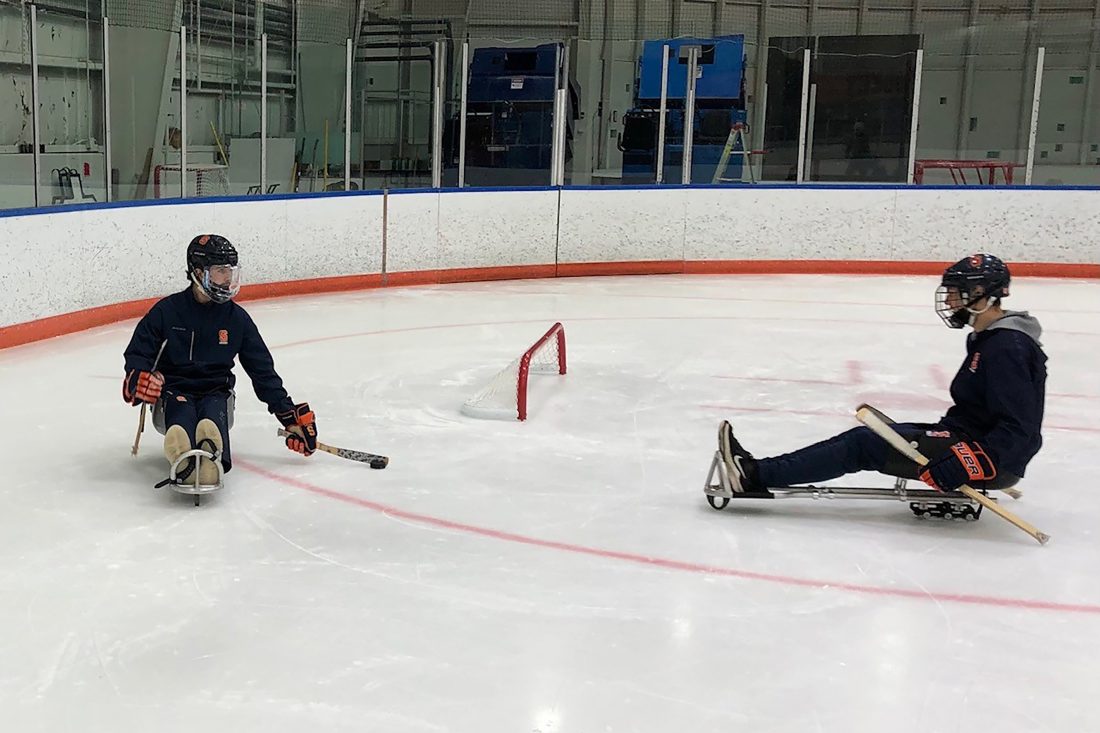 Fall 2022 Registration
Registration for Fall 2022 Intramural Sled Hockey opens Tuesday, July 5, and closes Friday, Sept. 23, 2022. Captains must register their team before the Sept. 23 deadline to participate in the Fall 2022 season. Please note that space is limited and any teams registering after the league is full will be added to the waiting list.
Participation Eligibility
Intramural Sled Hockey is open to Syracuse University and SUNY-ESF students, faculty and staff. No experience is necessary and equipment is provided.
About Intramural Sled Hockey
Sled Hockey is an adaptive form of hockey where players sit in specially designed adaptive hockey sleds that glide over the ice on a pair of skate blades. Players propel themselves with a pair of sticks fitted with metal picks. Players that lack the upper body strength or muscle coordination to move themselves may use the assistance of a helper or "pusher" to move them on the ice.
The rules and strategies are very similar to "stand-up" hockey, and much like stand-up hockey, skating is a key element to the game. Participants looking for extra skating practice and instruction may be interested in joining Orange Sleds, the Saturday morning sled hockey class offered by the Syracuse Skating School at Tennity Ice Pavilion. This class is free for students.
Schedule
Regular season begins Tuesday, Sept. 27, 2022. Weeks 1 and 2 (Tuesday, Sept. 27 and Tuesday, Oct. 4) are practice/instructional sessions. Games begin Tuesday, Oct. 11. Games are on Tuesday nights starting at 9:45 p.m.
Uniform and Gear Requirements
Gloves and a helmet with a full cage or face shield are required. Half-shields are not permitted. Shin guards and elbow pads are highly recommended. Hockey pants and shoulder pads are optional.
Tennity Ice Pavilion has gloves, helmets, and a limited number of shin guards and elbow pads for use. Please contact atlander@syr.edu if you need to borrow protective equipment.
Game Format
Games will be played cross-ice, 3-versus-3 with pond hockey nets. Games will consist of two 20-minute running time periods.
This event was first published on July 7, 2022 and last updated on July 22, 2022.
---
Event Details
Category

Type

Region

South Campus

Open to

Campus Community

Cost

Free

Group

Organizer

Contact

Aaron Landers
atlander@syr.edu
315.443.4273

Accessibility

Contact Aaron Landers to request accommodations
Parking

General parking available in the visitor lot next to the upper tennis courts. Accessible parking is available. Please contact atlander@syr.edu to request accommodation.