Information and Library Science
Research Talk: Trusting and Working with Diverse Robotic Co-workers with Lionel P. Robert Jr.
March 25, 2021 at 3:00pm – 4:00pm EDT
Virtual (See event details)
This event has already occurred. The information may no longer be valid.
The Center for Computational & Data Science (CCDS) presents a Virtual Research Talk with Lionel P. Robert Jr.
Trusting and Working with Diverse Robotic Co-workers

Organizations are facing a new challenge of integrating humans and robots into one cohesive workforce. Theories of diversity have been used to understand when humans trust and prefer to work with other humans in collaborative work settings. Although the diversity would be a useful lens to understand human-robot relationships, it is not clear whether the theory in human-human relationships is fully transferable to human-robot relationships because people may not fully anthropomorphize robots and dehumanize them. To address these issues, we proposed a research model and conducted an experiment with 347 participants to empirically examine the model. Our findings showed that surface-level and deep-level diversity can hamper trust in co-workers, and the negative effect manifests differently between a robot and a human co-worker. We also found that trust in a robot co-worker vs. a human coworker yield different effects for predicting preference for working with a robot co-worker over a human. Overall, our research contributes to the current understanding of human–robot teamwork by identifying the importance of diversity from the perspective of dehumanization and anthropomorphism of robots.
Biography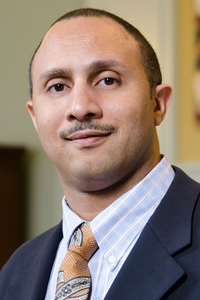 Lionel P. Robert Jr. is an Associate Professor in the University of Michigan School of Information and core faculty at the University of Michigan Robotics Institute. His research focuses broadly on collective action through technology and human collaboration with autonomous systems. He is the director of the Michigan Autonomous Vehicle Research Intergroup Collaboration (MAVRIC), an affiliate of the Center for Hybrid Intelligence Systems and the National Center for Institutional Diversity all at the University of Michigan and the Center for Computer-Mediated Communication at Indiana University. He is currently on the editorial board of Management Information Systems Quarterly, the Journal of the Association for Information Systems, ACM Transactions on Social Computing, the AIS Transactions on Human-Computer Interaction, ROBONOMICS: The Journal of the Automated Economy and a founding editorial member of Collective Intelligence. Dr. Robert has also been on conference program committees for ICIS, CSCW, CHI, HRI, and AAAI. His research has been sponsored by the U.S. Army, Toyota Research Institute, MCity, Lieberthal-Rogel Center for Chinese Studies, AAA Foundation and the National Science Foundation. He has appeared in print, radio and/or television for such outlets as ABC, CNN, CNBC, Michigan Radio, Inc., Washington Examiner, Detroit News, Yahoo News, New York Times and the Associated Press.
This event was published on February 25, 2021.
---
Event Details
Category

Type

Region

Virtual

Open to

Public

Cost

Free

Contact

Lisette Child
ldchild@syr.edu
315.254.5923

Accessibility

Contact Lisette Child to request accommodations