Communications Journalism Media
Bandier Program: Composers, Producers, Arrangers and Engineers: Joe Mardin and Adam Dorn
March 8, 2023 at 6:45pm – 8:05pm EST
Whitman School of Management, Whitman 007, Lender Auditorium
This event has already occurred. The information may no longer be valid.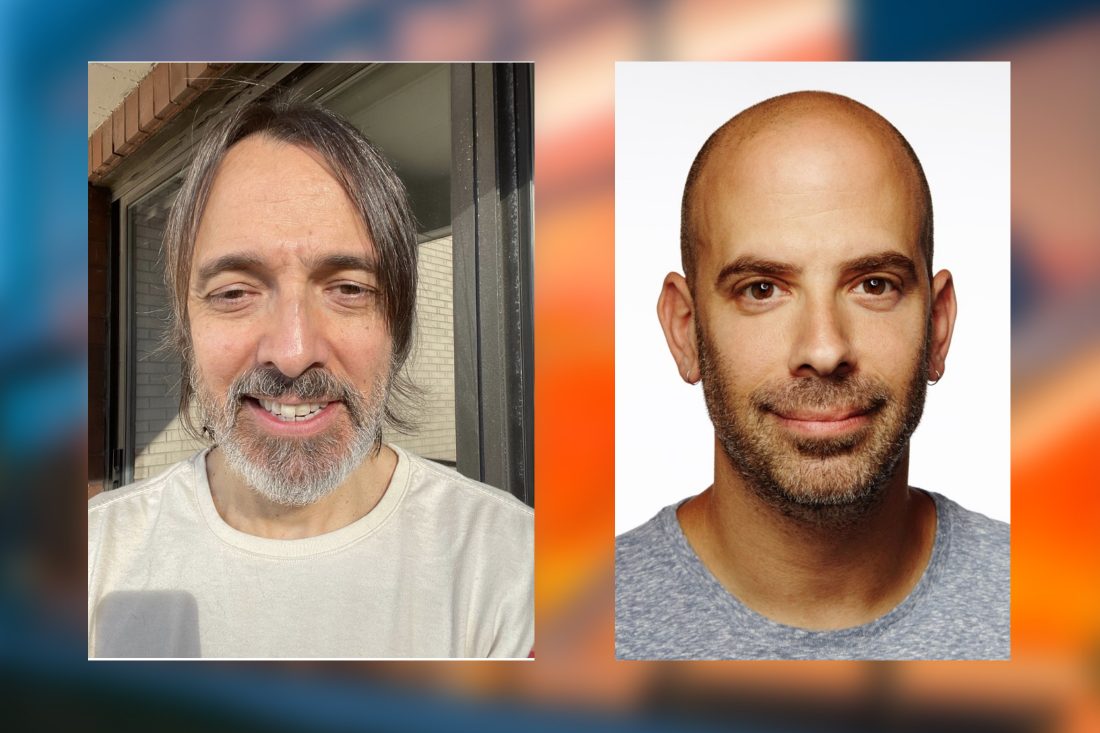 Joe Mardin has worked as a producer, arranger, songwriter, mixer, musician and conductor for artists including Chaka Khan, George Benson, Jewel, Whitney Houston, Raul Midon (also with the Metropole Orkest), Queen Latifah, Darius Rucker, Boy Meets Girl, Aretha Franklin, Daryl Hall, Culture Club, Cory Glover and Ofra Haza among many others. He also produced the critically acclaimed album, "Canzoniere" for renowned world music band, Canzoniere Grecanico Salentino (CGS).
Mardin co-produced and mixed an album of original compositions for Emmy Award-winning composer Joel Goodman, featuring guest artists Lisa Fischer, John Pattitucci, Randy Brecker and Grammy nominated jazz harpist Brandee Younger, which will be released immanently. Recent projects include arranging six tracks for an orchestra for A-ha's current album and film, "True North." One of those arrangements was performed by the band with the Los Angeles Philharmonic at the Hollywood Bowl.
Mardin also recently composed music and did sound design for a new play, "Noises In My Head" which was performed at the Theater For The New City in New York. Mardin continues to perform live, playing drums and recording with harpist/singer Erin hill.
As a graduate of the Berklee College of Music, Mardin is proud to have studied with renowned jazz educator, Herb Pomeroy. In 2011 Mardin was nominated for a Grammy award for co-directing and coproducing the documentary, "The Greatest Ears In Town: The Arif Mardin Story," about his father, legendary producer/arranger/composer, Arif Mardin.
Mardin lives in New York City where he does most of his work at his NuNoise Studio. Recent projects at NuNoise include Mardin engineering drum tracking sessions for Semisonic.
Mardin is planning the release his second album under his own name in 2023.
Adam Dorn is a composer, record producer, recording artist (Mocean Worker), arranger, songwriter and bassist who has worked professionally in the music business since the age of 16. The son of renowned jazz and R&B producer Joel Dorn, he was mentored starting at age 16 by Grammy-winning producer and musician Marcus Miller. He had the honor of learning from Miles Davis, David Sanborn and Luther Vandross as a teenager while studying with Miller. In conjunction with that apprenticeship, Dorn later studied at the Berklee College of Music in Boston and is an accomplished bassist.
His music can be heard everywhere – from Star Wars attractions at Disney theme parks to the Showtime docuseries "Enemies" about power-abusing politicians from Oscar and Emmy-winning director Alex Gibney. Morphing between producer, composer and recording artist at all times, Dorn has worn many musical hats over the last 36 years. As a musician (piano and bass) and co-writer, he has worked with U2, Sting, Lady Gaga, Kesha, Lou Reed, Brian Eno, Luther Vandross, Bryan Ferry, SIA, Chaka Kahn, Chuck D. and Laurie Anderson, among many others. The last decade has seen Dorn increasingly focusing on TV and film composing, with a specific focus on documentary series and feature action films. Two current projects include a feature doc about the life and times of former California governor Jerry Brown and a documentary about the early days of the civil rights movement entitled "Ain't No Back To A Merry-Go-Round," both slated for early 2023 releases. He also recently produced the music for a Pixar animation short called "Us Again." Dorn also scored season three of the Peabody-winning investigative journalism podcast, "Serial," which holds an ongoing record as the fastest podcast to reach five million downloads and streams in iTunes' history. In 2019 he scored HBO's critically acclaimed documentary and Sundance selection "Robin Williams: Come Inside My Mind," directed by Emmy-winner Marina Zenovich. This was his second collaboration with Zenovich, having previously scored the Emmy-nominated film "Richard Pryor: Omit the Logic," which won the NAACP Image Award for Best Television Documentary.
His other credits include scoring HBO's Emmy-nominated docuseries, "The Weight of the Nation," from 31-time Emmy-winning producer Sheila Nevins and four-time Emmy-winning producer John Hoffman; the trilogy reboot of the "Kickboxer" action film series ("Vengeance," "Retaliation"); the 2021 Nicholas Cage sci-fi thriller  "Jiu-Jitsu"; and Melissa McCarthy's TV Land comedy, "Nobodies." Additionally, Dorn scored the end credits for AMC's Golden Globe and Emmy-nominated crime drama "Better Call Saul" (as well as working on "Breaking Bad"). He also reimagined the music for ESPN's iconic sports program "Around The Horn," hosted by Tony Reali. Beyond his career as a composer of prestige documentaries, films and television shows, Dorn is a successful jazz-oriented dance music producer and DJ. Under the moniker Mocean Worker, his music can be heard in numerous films and television shows including "The Devil Wears Prada," "The Bourne Supremacy," "Mr. and Mrs. Smith," "The Pink Panther," "CSI" and "Six Feet Under" as well as commercials for Lincoln Navigator, Macys, Hyundai, KIA, Honda, Crayola, Hilton Hotels and Chicos Clothing. After living in Los Angeles for the past 11 years, he currently resides in New York with his wife and son.
This event was published on March 7, 2023.
---
Event Details
Category

Region

Campus

Open to

Current Students

Contact

Lisa Steele
llsteele@syr.edu
3154431388

Accessibility

Contact Lisa Steele to request accommodations